They say there is no diversity in men's style, no more variations or options a fellow can reach for as he explores his style contribution to society. I invite you to take a close look back in time where certain unspoken rules applied, respect exchanged and style was indeed the first conversation had with no words.
In an era where style wasn't intended for attention, a flashy connotation or even recognition – there is no doubt that there was an effortlessness and sense of self-locked in generations before us. Cheers to a man whom's voice, writing patterns and style perspective left such a lasting impression in the literary world.
Let's reintroduce ourselves to a man that is no stranger to detail.
Style in Revolution:
In a period between World War II right through to the Civil Rights struggle of the Sixties, men focused on their social commitments first and style just happened. Belief is, when you know who you are, where you stand and are present in life – style is second nature but very much important to how you communicate with the person next to you.
James Baldwin had a small frame, a stare that meant business and a laugh that made you want to clone him for yourself. His style in revolution included a tie w/a single knot, very wide collar and a beautiful flower but what's secretly impeccable is his ability to be effortless in his approach to political engagement while speaking his peers style language; approachable and non-threatening.
James Baldwin, ~ Dr. Martin Luther King, Jr.

James Baldwin, ~ Bob Dylan
James Baldwin, Walter Reuther and Bayard Rustin
James Baldwin stands between May Mercier (L) and pianist and singer Hazel Scott
Cicely Tyson, James Baldwin, Arthur Mitchell (dancer and founder,Dance Theatre of Harlem) and Harry Belafonte attend the "To Be Young, Gifted And Black" gala on January 2, 1969
JB' Style 'Thing':
What's a 'thing,' you ask? It's a style perspective or piece that you can always be caught wearing; a 'thing' is an article of clothing or accessory people can identify you with from miles away. Steve Harvey adorned himself in hats and wide-legged trousers (until he married, ha!), Jamie Foxx wears his Trayvon Martin t-shirts
faithfully, Tupac and his Karl Kani
sweatshirts, and Prince is notorious for his platforms and open dress shirts.
James Baldwin 1970 meets us in 2016; he was ahead of his time. Baldwin had a thing' for scarves tied around the neck. No matter the pattern, fabrication or color, he mixed patterns, tied them tight and let it go!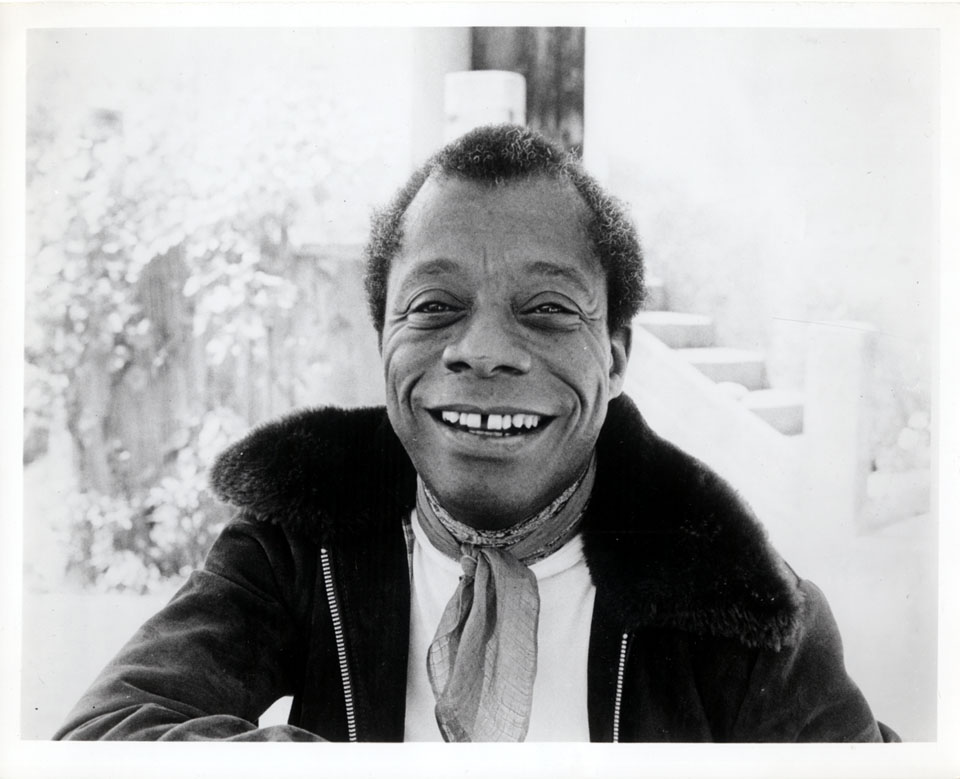 Style In Age:
They say everything gets better with age; Baldwin did not waver on the subtle details he is known for stylistically. He kept up with his patterns, neck wear and wore a powder blue dress shirt with personality.
James Baldwin and Anton Phillips, 1987
David Baldwin with James Baldwin in the 1980s. Photo courtesy of Carole Weinstein.
Save
The following two tabs change content below.
"...I have one of those VERY LOUD, stupid laughs. If I ever sat behind myself in a movie I'd probably lean over and tell myself to please shut up." - Author, JD Salinger
Latest posts by Ben Wills (see all)