OMG!  This was the hardest theme we have every had.  EVER!  This one took 7 days of nominations, 7 days of voting and other 2 days of a quick Re-Vote!  Apologies again.  But we finally have a winner!  Mocha Girl Read May Book of the Month is The Madman's Daughter by Megan Shepherd.  Take a minute to see what this book and the author are all about.
Synopsis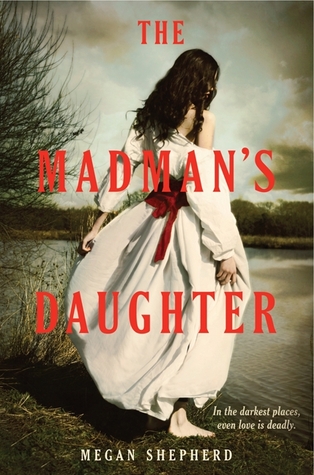 In the darkest places, even love is deadly.
Sixteen-year-old Juliet Moreau has built a life for herself in London—working as a maid, attending church on Sundays, and trying not to think about the scandal that ruined her life. After all, no one ever proved the rumors about her father's gruesome experiments. But when she learns he is alive and continuing his work on a remote tropical island, she is determined to find out if the accusations are true.
Accompanied by her father's handsome young assistant, Montgomery, and an enigmatic castaway, Edward—both of whom she is deeply drawn to—Juliet travels to the island, only to discover the depths of her father's madness: He has experimented on animals so that they resemble, speak, and behave as humans. And worse, one of the creatures has turned violent and is killing the island's inhabitants. Torn between horror and scientific curiosity, Juliet knows she must end her father's dangerous experiments and escape her jungle prison before it's too late. Yet as the island falls into chaos, she discovers the extent of her father's genius—and madness—in her own blood.
Inspired by H. G. Wells's classic The Island of Dr. Moreau, The Madman's Daughter is a dark and breathless Gothic thriller about the secrets we'll do anything to know and the truths we'll go to any lengths to protect.
Meet the Author

I've been many things, like a professional exchange student, park ranger in Montana, and LOST enthusiast, but what I am now is a writer.
I think it's fair to say I was born into it. I grew up in the mountains of North Carolina, raised behind the counter of my parents' independent bookstore, Highland Books in Brevard. Ah, so many free books. But I never thought being a writer could be a real career. After college I thought I'd end up as a foreign service officer somewhere dashing and exotic, like Canada. I studied French, Spanish, German, and Russian and still speak a few of those. Then I joined the Peace Corps and spent two years in Senegal, where I learned a few more languages I'll never speak again and lived in a mud hut with no electricity or running water. You can probably imagine how that experience went, but if you're curious, here are the dirty details.
It wasn't until a chance acquaintance read something I wrote and said, "have you ever considered being a writer?" that something clicked and I realized it was possible. My husband encouraged me, and I quickly fell head-over-heels in love with writing and children's literature in particular. I started out writing articles, which have appeared in Faces, Appleseeds, and Calliope magazines, and stories for younger children. I soon realized I wasn't sweet enough to write fiction for that age and found myself writing young adult literature instead, which doesn't require nearly as many tender moments and includes a lot more cursing.
When I'm not writing, I can usually be found horseback riding, day dreaming at coffee shops, or hiking in the beautiful mountains of Western North Carolina. I love to hear from readers, so please drop me a line!
Buy the Book
Congratulations to Ms. Shepard for becoming Mocha Girls Read 20th book.
Feel free to leave comments and thoughts here as you are reading the book. I'm really looking forward to reading this book and hearing what everyone thinks of it.
Keep the pages turning!
The following two tabs change content below.
Founder of Mocha Girls Read book club. But basically, just another girl who loves to read and then read some more and wants to meet others like me. If you add a cup of green tea with lemon and honey I will be overjoyed.
Latest posts by Mocha Girl Alysia (see all)